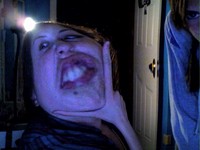 Ben wearing a blond and pink wig and australian straw hat, holding an acoustic guitar and carebear.
Blue Moon Belgian-style Wheat Ale
a person i dont know sitting on my couch
Ben is now practicing erotic yoga on a purple excercise ball.
The ugliest Ed Hardy sunglasses I've ever seen that no one will admit is their's
a picture of John Lennon
a men's bathrooms sign on door
Kinsman Ln stolen sign
No Parking stolen sign
Gary pillow
Diamand Logo
Everlast boxing thing with wig on it
Emily
Vegemite
a plastic turtle
scissors
goats in trees calendar
Johnny Cash giving me the middle finger via poster
Johnny Depp lounging on a chairvia poster
"Learn Guitar" chord book
Lebanese flag
Shooting range target (mostly bulls-eyes, may I add)
video of man chewbacca call
Hoang boxing with boxing gloves
rubber duck
Stolen Dunkin Donuts sign
"xs" clothing sticker on door
jimi hendrix poster that i'll probably take down soon
now broken boxing thing
russian wearing hat and saying "i am the captian"
may 21 2010 ∞
may 21 2010 +