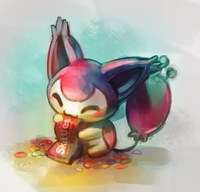 Sariel
31 (almost 32 at the time of writing)
25.05.1991
Non-binary (they/them in English, elle in Spanish)
Gemini sun, Libra moon and Leo rising
Polytheistic, non-denominational Pagan.
I'm autistic. I also struggle with depression, anxiety and PTSD. Suspected ADHD
I'm a diverticulitis/colovesical fistula survivor. I needed surgery to heal from these health conditions.
I speak English and Spanish, and therefore, I will tweet in both languages.
Pansexual (taken)
Working full-time at a factory as mail sorter.
In my free time I love to play videogames.
I'm a skilled self-taught craftsperson. I like to knit, and I'm also able to do handmade jewelry with different materials. I even ran a small shop loooooong ago (2016)
Yeah, I love Skitty too much.
I also love sweets~ (and eating :D)
Yes, I also read tarot and oracle cards.
jul 18 2018 ∞
mar 19 2023 +