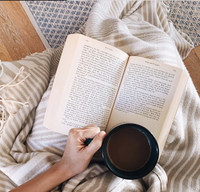 JANUARY
Creep, Jennifer Hillier.
Haynes explains babies, Boris Starling.
APRIL
Fifty fifty, Steve Cavanagh.
Here to stay, Mark Edwards.
What lies between us, John Marrs.
One true loves, Taylor Jenkins Reid.
Clap when you land, Elizabeth Acevedo.
JUNE
Le pêché des anges, Charlotte Link.
Five years from now, Paige Toon.
Regretting you, Colleen Hoover.
JULY
The other wife, Claire McGowan.
The road trip, Beth O'Leary.
The passengers, John Marrs.
Sh**ged. Married. Annoyed., Chris and Rosie Ramsey. (Audio)
Get a life, Chloe Brown, Talia Hibbert.
Hostage, Clare Mackintosh.
The beach reads book club, Kathryn Freeman.
4th of July, James Patterson and Maxine Paetro.
AUGUST
The girl with the lower back tattoo, Amy Schumer. (Audio)
The vacation, John Marrs.
The doctor will see you now, Amir Khan. (Audio)
The night she disappeared, Lisa Jewell.
SEPTEMBER
Why I'm no longer talking to white people about race, Reni Eddo-Lodge. (Audio)
One by one, Ruth Ware.
Us three, Ruth Jones.
Hellfire, Karin Fossum.
The catch, T.M. Logan.
OCTOBER
Don't make a sound, David Jackson.
A Glasgow kiss, Sophie Gravia.
The book you wish your parents had read, Philippa Perry. (Audio)
Love poems for people with children, John Kenney. (Audio)
Lock every door, Riley Sager.
jan 29 2021 ∞
oct 14 2021 +