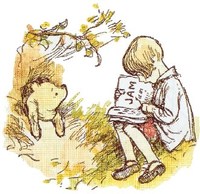 Jam.
Dainty hands.
Freckles painted on collarbones and pale flesh.
Gloves.
When gentlemen in period pieces offer handkerchiefs.
Rain racing down the window.
Blue.
Ribbions.
Plaited hair.
Quiet people.
Curls.
Glitter that looks a bit like stardust or faerie dust.
Thimbles.
Bravery.
Poems.
The fleeting sunset, how beautiful it is even when night is near.
Stars.
Books.
Secret Gardens.
Bears.
Window boxes.
Music boxes.
Whales.
Faerie wings.
Lace.
Trees.
Nature.
Rain puddles.
The smell of rain.
Tea and cakes.
Dream stealers.
Never growing up.
Magic.
aug 25 2010 ∞
aug 25 2010 +