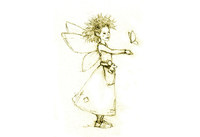 Dreamer.
Faerie house builder.
Reader.
Writer.
Knitter.
Constantly wanting to learn more.
Asking many questions.
Known for walking and reading and running into people/things.
Slamming fingers in doors and tripping over air.
Doesn't want to grow up.
Still and always shall believe in Faeries and Nagas and magic.
Writes stories in her head whilst taking walks or day dreaming.
Often thought of as melancholy.
Highly sensitive.
Singer from an early age.
Small and long boned.
Narrow faced.
Fair hair.
Blue eyes.
See's characters in books as dear friends.
Lover of fawns and deer.
Adventure lover.
Both fearless and frightened.
aug 24 2010 ∞
sep 18 2010 +