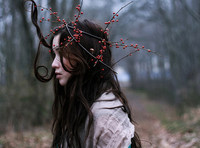 Beautiful people who look otherworldly.
Trees with faces.
Music that seems to come from nowhere at all.
Steam from a cup of tea that looks like a little spirit.
Creaks in the old house.
Mushrooms popping up in the lawn.
Books, but of coarse.
Anything in nature.
The old stories.
Glimpses of shadows.
Fleeting smiles.
Pale faces paired with lovely raven colored hair. (I wish I looked so.)
Antique perfume boxes.
Unique names.
Branches that look like wizard's wands.
Hills, (is there a door to faerieland?)
Whispers in the trees.
Butterflys that land on your finger.
Laughs like silver bells.
Forest clearings.
oct 9 2010 ∞
oct 9 2010 +