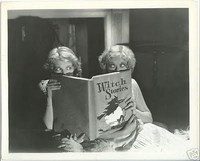 crinkly, crimson leaves falling like little cardinals from the trees.
bobbing for apples.
popcorn balls.
jack'o'laterns/ pumpkin moonshine.
pumpkin soup.
Hogwarts great hall feast.( no trolls allowed in the dungeon,please.)
the sweets trolly on the Hogwarts Express.
grey skirts with folds and cardigans.
boots and polka dot stockings.
real witches dressed as witches for halloween. (shhh!)
fairy tale pumpkins that look a bit like cinderella's carriage. (with field mice for coach men!)
Kiki and Jiji.
old books and potion beakers.
quill pens.
caldrons.
candy (the yummy, homemade sort.)
ebony witch's hats and ivory wands.
black and gold glitter.
goblets of apple cider.
brooms that send you flying.
barren trees that look like long fingers.
the warm hearth.
vintage halloween decorations.
acorns and pumpkin seeds.
chilly nights.
fairy lights.
sep 20 2010 ∞
sep 20 2010 +