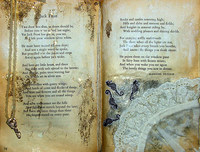 snowflakes on eyelashes.
cold hands.
blanket of white on the ground.
glittery book pages.
lists of dreams.
the nutcracker ballet.
sugarplums and turkish delight.
brown parcels holding gifts.
homemade cards.
steaming hot chocolate.
cozy jumpers.
cashmere socks.
sticky toffee smiles.
douglas fir adorned in lights.
sleeping cat companion.
knitted scarf around neck.
stack of books.
crackling and dancing fire.
cups of hot tea.
reed pipes singing. (played by mr. tumnus)
snowy hoof tracks on the roof.
warm slumber.
magical dreams.
dec 4 2010 ∞
dec 4 2010 +