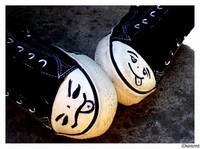 Mr. Red Golden.
AFL Young Workers Committee
Getting my hair done.
Canon EOS T2i
NFL Season
Looking forward to our Vancouver vacation.
Cooking For Us.
Being an Adult
Reading political books
Homemade Chili and Mac n Cheese
Samosas
Black and White photography
Slowing build a descent wardrobe.
Xbox 360
Odinism
Too much halloween candy.
dec 31 2009 ∞
nov 25 2011 +