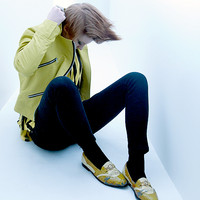 I have two words.. LA ROUX ! I just discovered this new band and they're pretty much amazing.
The lead singer is quiet androgynous, super talented and totally gorgeous. + the lyrics are fabulous.
My favourite songs would have to be: Quicksand, In For The Kill, Bulletproof, Cover My Eyes, Colourless Colour, I'm Not Your Toy & Growing Pains.
That's basically the whole album I've listed.. Eh. It's good, Listen to it.
jul 30 2009 ∞
oct 17 2009 +