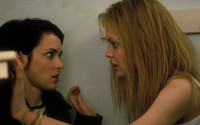 Hailey - Hard Candy.
Margot Tennenbaum -The Royal Tenenbaums.
Alice Piasecki - The L Word.
Cassie Ainsworth - Skins.
Sid Jenkins -Skins.
Chris Miles - Skins.
Jane Lane - Daria (Closest I'd get to a cartoon)
Elliott Reid - Scrubs.
Dr Cox - Scrubs.
Giselle - Main character in le' book Skinny.
Samantha Jones - Sex & The City.
Lisa Rowe - Girl Interrupted.
Clementine Kruczynski - Eternal Sunshine..
nov 8 2009 ∞
nov 8 2009 +