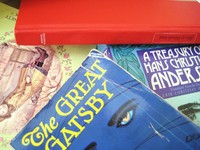 Memoirs of A Geisha.
Franny & Zooey.
Healthy at 100.
Illusions.
Alice in Wonderland.
The Adventures of Pinocchio.
The Devil in the White City.
Smashed.
The Adventures of Huck Finn.
Twilight.
Don't you Forget about Me: A GG novel.
Poo Lorn L'elephant.
Pride and Prejudice.
Girl Bomb.
Into the Wild.
Prince Caspian.
Other People's Love Letters.
The Little Prince.
The Time Traveler's Wife.
Anna Karenina.
Siddhartha.
The Secret Life of Bees.
sep 16 2009 ∞
jan 3 2010 +