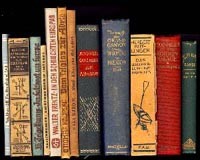 One Flew Over the Cuckoo's Nest.
Running with Scissors.
Nothing Can Keep Us Together: A Gossip Girl Novel.
It's Called a Breakup Because It's Broken.
The Bell Jar.
Only in Your Dreams: A Gossip Girl Novel.
I haven't had a lot of time to read this year, unfortunately. The Bell Jar's taken me about three months to get through.
jul 14 2008 ∞
sep 16 2009 +