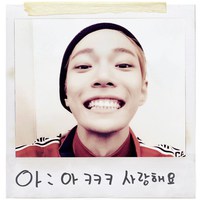 profile
˹kim dong-young˼ ✧ 김동영
960201 // aquarius
main vocal
nct u ✧ nct 127
predebut
좋다 (Good) (by Daybreak) Cover

note: 10/10, favourite predebut performance of all time. you can't really see much of him and you can tell he's untrained, but his voice sounds so full, free and happy! makes me weep!

Poker Face (by Lady Gaga) Cover

note: the audio quality is pretty low, but this pre-debut vid is a classic! he directed this rendition of poker face for his high school choir, and you can see him get a little emotional when everyone starts singing together

Bad Romance by Seven Able

note: this, unlike poker face, is not the gaga song! in fact it's an original song by his band! apparently, he composed the melody too. he's a little rusty but i absolutely love the tone of his voice. i mean, who doesn't love awkward high school band front man kim dongyoung??
rookies era
debut - present!
may 15 2017 ∞
mar 8 2020 +