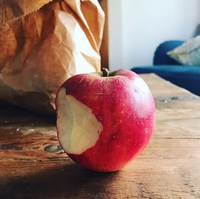 the new book by Cornelia Funke is fox-themed and set in Japan!
the Drei Fragezeichen theme
already thinking about curating a little package for Sonja's birthday on the 1st of December, maybe even with a tiny little advent calendar
in my holidays i did: bake cookies & cinnamon buns, painted lots, go apple-picking, eat Greek food, see Meike twice, re-arrange my bedroom, eat ramen
Ella has an essay out in a new essay collection
the song 'Dreams' by Fleetwood Mac
Daphne wrote that she solved her little Enola Holmes styles riddle and that it was so much fun for her
four beautiful pen pal letters & a care package from Hanne (a little pumpkin! self-sewn masks!) in one day
i loved the waffle recipe book i bought for Meike's birthday so much i made black-and-white-waffles Saturday morning. i might have to keep it for myself for more waffle inspiration
things i enjoyed drawing: the octopus, ombré crystals & acorns, croissant, little Chanel No. 5 bottle, lipstick, espresso maker, the owl, the hobbit door, hedgehog & rose hips
a walk in the late October sun, collecting pretty leaves and buying some cute new postcards at Miss Minz
i could book an online watercolour or other drawing course at some point during the winter
has anyone ever really recognized how truly yellow sunflower petals are? they are SUCH a vibrant colour
the paperback of Ella's cookbook will come out on 31st December and it has different little illustrations & some new writing by her!
oct 1 2020 ∞
nov 1 2020 +