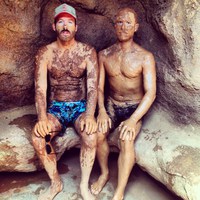 40 - TBD
39 - TBD
38 - Breakfast w. Mom + Andre; dinner w. Amanda, Andi, Jen, Adam, Ame, Jessie, Lucy, Taya, Jeff, Jojo, Richard, Roxanne @ Palms; hiking wknd w. RL in North Cascades.
37 - Hiking in Mt. Rainier NP to Crystal Lake, meditating on PCT; Glacier NP wknd w. Ame, Adam, Jen, Scott, Brett + RL.
36 - Olympics Viewing Party at Maltman w. Richard, Ame, Adam, Cynthia, Taya, Alexis, Jessie, Mary, Lora, Lucy, Jen, then Rocky Mountains/Colorado w. Ame, Adam, and RL.
35 - Ojai House Weekend w. Richard, Ame, Anne, Taya, Alexis, Mary, David, Weenie, Sadie, Jen and my Mom.
34 - Echo Park Lake for Picnic and Paddle Boats w. family + friends; House of Intuition w. Mary, Taya and Richard; Mohawk Bend for early dinner.
33 - Glen Ivy with Richard, Lisa and Greg; trampolines w. friends, then Hugos lunch with Mom and friends.
32 - Solo spa day at Detox (facial and massage), snack at Broome General Store, mellow dinner at Maltman w. Amanda, Molly, Andi, Jen and Ame.
31 - Housewarming and birthday party (31 on 31st of July) at Maltman; worked at DMV; small dinner at El Caserio with Ross, Taya, Jen, and Ame.
30 - Yoga class at Urth; Backyard BBQ at 3345 Hamilton Way w. friends + family.
29 - Private training with Vanessa; Glen Ivy private patio with Greg, Lizette, Mom and David.
28 - Party at Marathon w. friends; watched opening of Beijing Olympic Games (2008); Church service in Echo Park; Hollywood Bowl Pool Circle for Les Miserables with Mom, David and Lora.
27 - Morning at the beach in Malibu; Dinner at CliffsEdge with family and friends; drinks at 4100; party all night at Marathon; Bank of the West Tennis match at Home Depot Center w. David.
26 - 1st Yoga class at Silverlake Yoga; Drinks at Shortstop; party all night at Marathon with friends.
25 - Shared party with Sissy at Edendale; party at Marathon; next morning breakfast at Eat Well.
24 - First day of new job at "The Club"/HPC; Drinks with Lora, Daniela and Shannon at Bodega in Pasadena.
23 - Small party at 570 with Ross, Taya, Amanda and Shannon; Ross spills wine on my tan corduroy pants.
22 - ?
21 - Lunch and first drink with Dad and Cheryl in Newport Beach; drinks in LV (?) with Vickie Creekmur and friends; late night with Vickie.
17 - Watched Conspiracy Theory (Julia Roberts/Mel Gibson) w. the Get Along Gang and Mom in West Covina.
12 - Olympic Birthday at 216; friends over to watch the events on TV.
9 - On a cruise with MacDonald family to the Caribbean; wore a pin that said "It's my birthday, too" but no one cared.
8 - Saw Big Top Pee-Wee with Mom and Kelly Nichols at Mann 6 Theater in Monrovia; maybe went to miniature golf, too.
may 15 2014 ∞
may 4 2021 +