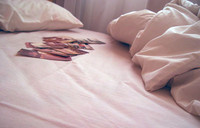 treehouse architecture, homemade lemonade, sunshine basking, jackie opel records.
midnight movies on the garden projector; vegan barbecues, coconut-shell pina coladas, sleeping on the trampoline.
john & june hair, our sunday best, the cadillac, the dance.
picnics on cissbury ring, wine from the bottle, stargazing, owen-covers.
soy tea, two quilts, ginger cookies, wes anderson marathon.
e-kagen, home-rolled sushi, paper lanterns, ghibli boxset.
brighton beach, the duke of york's, backseat kisses, red wine.
london town, fish eye + wide angle, midnight strolls, mildred's bistro.
arundel drives, boat rides, moleskine scrapbooks, tourist trails.
sleepless playlists, two blankets, all-night drives, cloud kisses.
band of horses, cherokee symbols, home tattoos, teepee building.
overnight trains, la rue de paris, balcony breakfasts, sunset cityscapes.
williamsburg nights, the l-train, st. marks sunsets, sleeping on the riverbanks.
may 12 2010 ∞
may 12 2010 +