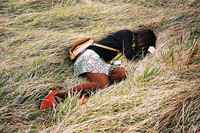 I wish I was better at accomplishing the things I set out to do.
I wish I was better at mathematical, logical, and verbal thinking.
I wish I would read more often and would learn to become a faster reader. (dyslexia)
I wish I spent less time at the computer and more time doing the things I love.
I wish I'd be more forgiving of myself when I make mistakes.
I wish to learn to trust myself more.
I wish to use my heart more often than my head.
I wish I would go out for more walks and start doing yoga again to help with my depression.
I wish I would get to sleep earlier so I don't have to feel guilty about sleeping well into the afternoon. (not that its necessary to sleep so much. I just love it so much..)
I wish to be feel more confidence in myself around my family.
I wish to get back to drawing and writing.
I wish to be more pleasant to be around; less irritable and difficult to communicate with.
dec 20 2009 ∞
jan 12 2010 +