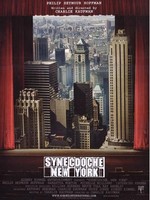 ✔

The Curious Case of Benjamin Button - David Fincher + Brad Pitt. This will be the best film of the year.

✔

Synecdoche, New York - Charlie Kaufman's directorial debut starring Philip Seymour Hoffman.

✔

Let The Right One In - a Swedish coming-of-age vampire movie that is supposed to be really really really good.

✔

Happy-Go-Lucky - this looks really cute, and I've heard really good things.
Blindness- director of City of God + great cast. This one could actually suck though.

✔

Tropic Thunder - Robert Downey Jr. is the funniest man alive.

✔

The Dark Knight Christopher Nolan + amazing cast. It will be better than the first, which was very good.

✔

Burn After Reading - a comedy from the Coen Brothers, who are maybe the best film-makers alive.

✔

The Brothers Bloom - great cast and a promising director

✔

Where the Wild Things Are - it is my favorite kids book, Spike Jonze is directing, and apparently kids ran away from a test screening crying because it's too creepy. It's going to be amazing.

✔

Coraline - stop motion film (based on a Neil Gaiman book) from the director of The Nightmare Before Christmas, James and the Giant Peach.

✔

Slumdog Millionaire - Danny Boyle's new film. I was turned off when I heard the synopsis, but the reviews are VERY good.

✔

The Wrestler - it will probably be Darren Aronofsky's best film. Which is actually not saying much, because he's REALLY over-rated.

✔

Australia - Baz Luhrmann is kind of a genius. Kind of. This one looks like it could be very corny or mind-blowingly amazing.

✔

Towelhead - written/directed by Alan Ball, creator of Six Feet under and American Beauty

✔

Harry Potter 6 - its the best book in the series.
Largo - lots of good musicians and funny comedians are involved.

✔

City of Ember - Bill Murray + Tim Robbins + director of Monster House + amazing production design. This one could suck though.

✔

The Fantastic Mr. Fox - a stop motion film from Wes Anderson, based on a Roald Dahl book, and with a great cast. This is going to be the best movie ever. It's too bad it comes out next winter.
may 23 2008 ∞
jan 12 2012 +