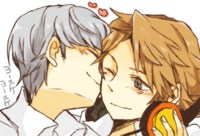 watched
ano hi mita hana no namae o bokutachi wa mada shiranai
ao haru ride
baby steps
dramatical murder
free! eternal summer
haikyuu!!
hetalia: the beautiful world
hetalia: world series
karneval
kuroko no basuke 2
kuroshitsuji: book of circus
love stage!!
mekakucity actors
noragami
ookiku furikabutte
ookiku furikabutte 2
persona 4: the animation
persona 4: the golden animation
sakura trick
sidonia no kishi
soul eater not!
re-watched
angelic layer
free!
fullmetal alchemist
junjou romantica
junjou romantica 2
moldiver x 3
ouran high school host club
panty & stocking with garterbelt
sailor moon
sailor moon r
sailor moon s
sailor moon super s
sailor stars
sekaiichi hatsukoi
sekaiichi hatsukoi 2
shingeki no kyojin
grand total: 37
jan 6 2014 ∞
aug 28 2016 +