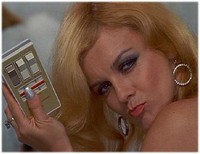 I got an A+ in stagecraft (I was designing garments for the mum in 'Tommy'! =D)
One of my watercolour paintings is featured in the school's yearbook, and it's one I'm quite proud of too. =D
I decided not to go to school on tuesday. So instead I stayed home and took photos of a concept I've had in mind fer ages. FINALLY got around to it!!
I finsished a watercolour painting for studio arts on time- and I'm quite happy.
I also finsihed my folio.
nov 19 2009 ∞
dec 23 2009 +