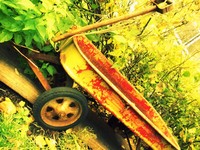 Limit internet time each day and go outside.
Make my purchase within 1 month of needing/wanting something.

This limits unwanted/ usless purchases.

Make lists of things to do and fill out daily planner.
Complete a minimum of 30 minutes of Yoga per day. Do not skip.
Don't accumulate

If I purchase something new for my wardrobe, get rid of something old.

Spend more time with the family.

I only have one more year at home until I go off to college. Make it worth while.
jan 31 2010 ∞
feb 13 2010 +