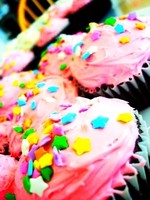 Envy - I am jealous of
People with long, wavy hair.

My hair is always short & always a mess.

People who are naturally smart.

& do not need to study or try to succeed.

People with older siblings

Don't get me wrong, I love my younger sister. But I have always wanted an older sibling that I can go to for advice.
Gluttony - Guilty pleasures
Berry smoothies

If you get me a smoothie, I will love you forever.

Hershey Kisses

I think I have devoured a whole bag by myself before...in one sitting.

Fresh baked Chocolate chip cookies

I can eat these at any given time. Don't doubt me.
Greed - I would love to have
A Macbook

This would come in very handy in college and whatnot.

A new vanity in my room.

My current one is a bit out dated and rustic.

Marc Jacob Flats.
Lust - My attractions
Eyes.
Intelligence.

If you are smart, you get automatic points.

Smell.

If you have a certain smell everytime I am around you. Or, I smell something and it makes me think of you immediately.
Pride - My top 3 positive characteristics
Optimistic

I am usually always in a good mood. If I am not, you have caught me at a bad time...

Loving

I will like you and try to be friends with you immediately, unless you give me a reason not to.

Trusting

Give me a secret. You have my word.
Sloth - Things I tend to do on lazy days
Watch Disney Movies.

Childish, yes. But they can cure anything.

Paint my nails.

Usually, they are painted a multitude of colors.

Write letters to people.

If you read my "About me", you know I do this often.
Wrath - I hate
People who can't see what is in front of them.

Or don't know what they have until it is gone.

When people expect you to help them, but make up excuses when you ask for something in return.

Especially when you need it most.

Backstabbers

We are in highschool people. Seriously.