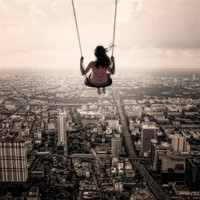 There comes a point in your life when you realize who really matters, who never did, and who always will.
Treat every person that you meet today like they are the most important person in the world.
I need a reason to stay here. I need a reason to wake up and not care that it's raining.
Promises are just lies with pretty ribbons tied to them.
Look at the sky: that is for you. Look at each person's face as you pass on the street: those faces are for you. And the street itself, and the ground under the street, and the ball of fire underneath the ground: all these things are for you. There are as much for you as they are for other people. Remember this when you wake up in the morning and think you have nothing.
You never leave my mind, even when i have a million things to worry about.
TBC
jan 31 2010 ∞
mar 21 2010 +