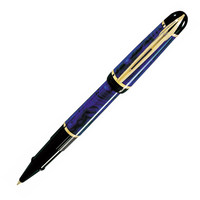 Parker Frontier in black
Parker Frontier in purple

primary pen for the bar. this one wrote smoother than the black.

Parker Vector

cheap and scratchy. for everyday use.

Waterman Phileas

hand me down from dad. my favorite fountain pen. wet and bold. writes like butter.

Lamy Studio

gift from dad that i didn't end up using much. skips a lot.

Pilot Varsity

ordered a box of twelve that is now almost depleted. gave many of them away to spread the fountain pen love.

Montblanc Meisterstuck ballpoint

hand me down from dad. used a felt tip filler with it. writes amazing. it gets lots of compliments from people who aren't comfortable with fountain pens enough yet.
nov 20 2010 ∞
nov 20 2010 +