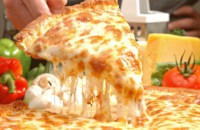 Sushi
Pizza
Lasagna
Cheese Quesadillas
Alfredos
Eggplant dip (Baba ghanoush)
Hummus
Tabbouleh
Fattoush
Grilled Scallops
Seafood Sub
Spinach Pies
Tempura Shrimp
Tuna Salad
Potato Salad
PB&J sammich
PB& Banana sammich
BBQ Ribs
Tuna Panini
Bruschetta
Sesame Chicken
BBQ wing dings
FRIES!!!
Waffles
Cole Slaw
Chicken Fajitas
Cheeseburgers
Chicken Burgers
Shawarma sammiches
Croissants
Fruits:
Watermelon
Cherries
Strawberries
Oranges
Lychees
Red Figs
Mangos
Guava
Apples (WITH PEANUT BUTTER THOUGH :P)
Bananas
Red grapes
Nectarines
Kiwi
Cactus Pears
Lemons
Blueberries
OMG I forgot pineapples!
Pomegranate
To be continued...
jul 6 2013 ∞
jul 20 2014 +