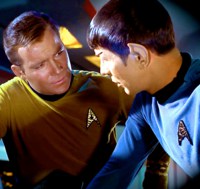 2x01 Amok Time

e my mind is telling me no (!!!) but my body's telling me yes
i don't see nothing wrong with a little bump and grind kirk essa perna ali o que foi isso por favor ;A;

spock insano com o sangue fervendo o m g:

"What is this? Poking and prying! If I want anything from you, I'll ask for it!"
"You will cease to pry into my personal matters, Doctor, or I shall certainly break your neck."
"Ask me no further questions. I will not answer."

fora os momentos com o spock fogo pegando fogo, eu percebi que mesmo com todas essas coisas fervendo na mente dele, ele manteve um discurso sempre respeitoso com o kirk-- não que isso signifique que ele é totalmente o sub da relação, mas...

"Captain, I should like to request a leave of absence on my home planet. (...) I have made my request, Captain. All I require from you is that you answer it. Yes or no."
"You have my request, Captain. Will you grant it or not?"
"I need rest. I'm asking you to accept that answer."
"Captain, I accept on your word that I did it, but I do not know why, nor do I remember doing it. Captain, lock me away. I do not wish to be seen. I cannot. No Vulcan could explain further."

entre outros momentos etc. da pra ver a diferença quando o spock fala com o bones:

MCCOY: Come in, Spock. I'm all ready for you.
SPOCK: My orders were to report to Sickbay, Doctor. I have done so. And now I'll go to my quarters.
MCCOY: My orders were to give you a thorough physical. In case you hadn't noticed, I have to answer to the same commanding officer that you do. Come on, Spock. Yield to the logic of the situation.
SPOCK: Examine me, for all the good it'll do either of us.

não quero nem marcar nada nessa parte porque 1) ew e 2) tá obvio demais. never gonna ship you up. mas o ponto é que quando o spock fala com o jim, é sempre desse jeito "de mim" para "você", se colocando a disposição do outro, se entregando às vontades dele tipo sou uma ferramenta para o seu uso omfg

SPOCK: The birds and the bees are not Vulcans, Captain.

melhor quote :') essa cena foi linda tbh. o spock não queria contar sobre isso pra ninguém, porque os vulcanos não falam disso nem entre eles. mas óbvio ele teve um heart to heart com o jim pra contar tudo pra ele. fofinho lvl 1k

KIRK: I can't let Spock die, can I, Bones? And he will if we go to Altair. I owe him my life a dozen times over. Isn't that worth a career? He's my friend.
SPOCK: It is my right. By tradition, the male is accompanied by his closest friends.
KIRK: Thank you, Mister Spock.
SPOCK: I also request McCoy accompany me.
MCCOY: I shall be honoured, sir.
T'PAU: Live long and prosper, Spock.
SPOCK: I shall do neither. I have killed my captain and my friend.

;; senti meus orgãos internos apodrecendo okay ugh "meu capitão e meu amigo" só seu, spocky. sigh. o plot desse episódio é um pornô barato disfarçando o fato que na verdade é sobre a amizade linda e eterna dos space boyfriends.

SPOCK: Doctor, please, let me finish. There can be no excuse for the crime of which I'm guilty. I intend to offer no defence. Furthermore, I shall order Mister Scott to take immediate command of this vessel.
KIRK: Don't you think you better check with me first?
SPOCK: Captain! Jim!

oh god esse sorrisooooo ;A;;; STAHP eu estava legit chorando nessa parte porque ughh!!!! ser lógico e racional my ass, você é uma bola de coisas amáveis e adoráveis, senhor spock.
att: esse negócio ficou muito na minha cabeça, do spock ser sempre controlado com as emoções dele- como um bom vulcan- mas nessa hora, ele deixou os escudos dele caírem completamente. pra uma pessoa normal, pode parecer a reação esperada, mas como ele pareceu tão feliz e os vulcanos controlam tanto as emoções, eu tenho esse headcanon que o spock na verdade estava muito, mas muito mais feliz ainda do que ele aparenta ali. e pensar que ele havia assassinado o kirk com as próprias mãos deve ter abalado ele muito mais do que qualquer um imagina.

MCCOY: There's just one thing, Mister Spock. You can't tell me that when you first saw Jim alive that you weren't on the verge of giving us an emotional scene that would have brought the house down.

mte. ah que episódio lindo :')

2x02 Who Mourns For Adonais?

que apesar de ser um ep meio tosco/idiota, tava todo mundo adorável! queria dar um abraço no spocky puppy face no começo

KIRK: Insulted, Spock?
SPOCK: Insults are effective only where emotion is present.
KIRK: Good. We'll tackle him together. We already know the questions. You're the best man to find the answers.

lindo esse companheirismo ugh best friends space boyfriends forever

CHEKOV: The captain requires complete information.
MCCOY: Spock's contaminating this boy, Jim.

o chekov é tão fofinho. e o jim também tava fofinho, o scotty todo apaixonadinho, a uhura linda maravilhosa arrumando o coiso e o spock

UHURA: Mister Spock, I haven't done anything like this in years. If it isn't done just right, I could blow the entire communications system. It's very delicate work, sir.
SPOCK: I can think no one better equipped to handle it, Miss Uhura. Please proceed.

admito que shippo esses dois quite a bit ;A; e enfim, foi isso, e o kirk mandou um quote maravilhoso:

KIRK: Give me your hand. Your hand. Now feel that. Human flesh against human flesh. We're the same. We share the same history, the same heritage, the same lives. We're tied together beyond any untying. Man or woman, it makes no difference. We're human. We couldn't escape from each other even if we wanted to. That's how you do it, Lieutenant. By remembering who and what you are. A bit of flesh and blood afloat in a universe without end. The only thing that's truly yours is the rest of humanity. That's where our duty lies. Do you understand me?

foreshadowing much? esse quote diz muito pra mim sobre uma certa relação entre um capitão e o seu vulcano que, como o kirk sempre lembra, está ficando mais e mais humano a cada dia. ;; ♥

2x03 The Changeling

NOMAD: Mister Spock is also one of your biological units, Creator?
KIRK: Yes.
NOMAD: This unit is different. It is well-ordered.

a carinha do spock nessa sequência inteira é tão fofinha uah ;a; sombrancelhas lindas. e a parte da christine com a nyota no maior bonding foi muito linda. alliance das fangirls do spock :-) ela toda kawaiizinha aprendendo a ler

UHURA: The ball is bl-u-ee. Bl-u-ey. Bluey?
muito tempo mesmo que eu não via tanto touchy feely spirk em um episódio só, wow, a hora que o spock fica todo coisado com o nômade entrando na cabeça dele e o kirk segura ele todo pra não cair oh
SPOCK: My congratulations, Captain. A dazzling display of logic.
KIRK: You didn't think I had it in me, did you Spock?
SPOCK: No, sir.

e a face do kirk depois :'D oh god foi tão espontâneo do spock responder que não e a carinha do kirk depois tão inocente tipo "really, spock, really". vocês são os idiotas mais densos desse mundo.

KIRK: Well, it thought I was its mother, didn't it? Do you think I'm completely without feelings, Mister Spock? You saw what it did for Scotty. What a doctor it would've made. My son, the doctor. Kind of gets you right there, doesn't it?

2x04 Mirror, Mirror

ahaha finalmente chegou nesse episódio! um dos melhores ever por tantos motivos que eu nem sei por onde começar. just to name a few:
spock de barba (!!!) e do mal. e kirk do mal (e imaginar esses dois sendo todo evil e se ameaçando e roughhousing idek). o uniforme da tripulação do mirror!'verse-- sério o que era aquilo, kirk golden boy e aqueles braços i can't. e aquela coisa toda nazi going on. a minha tenente uhura linda forever e sendo badass com o sulu. o sulu com aquela cicatriz insana, jeez, aquilo me matou. o chekov do mal, isso foi meio adorável. tudo o que o chekov faz é sempre totalmente adorável. o bones agarrando a cara do jim quando ele apareceu com sangue e o kirk sendo todo sassyboy ahah omfg. o spock no verse normal rindo do pessoal insano e trancando eles. o kirk do mirror!'verse, ugh, queria ver mais dele. ele parecia bem insano e interessante, essa coisa toda de matar pra subir no poder e matar geral sem remorso. etc etc. todo final de episódio eu sinto que queria que me dessem um tiro na cara, bem na cara, porque eu não consigo me conformar como esses idiotas são adoráveis, principalmente o ot3:
SPOCK: Indeed, gentlemen. May I point out that I had an opportunity to observe your counterparts here quite closely. They were brutal, savage, unprincipled, uncivilised, treacherous, In every way, splendid examples of homo sapiens, the very flower of humanity. I found them quite refreshing.
KIRK: I'm not sure, but I think we've been insulted.
MCCOY: I'm sure.
mar 17 2013 ∞
apr 30 2021 +