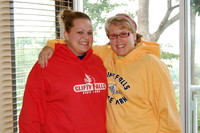 Fort Wayne Zoo trip
Hogwarts Camp Counseling
Vacation with my family
Summer Olympics
Winning the Crafty Olympics
Opening Craftcake Designs
Turning 21, baby!
2 year anniversary with Ian
several Guest Designer positions
Elsie Flannigan's online art class
Twilight releases (ie: movie, Breaking Dawn, etc.)
Thanksgiving in Alabama
The Fam coming up for Christmas
Build-a-Bear
Making the Dean's List x2!
jan 18 2009 ∞
aug 8 2009 +