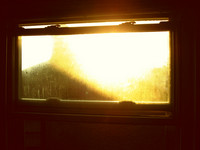 Custom-Made Bride by Kurt Vonnegut
"You are being suffocated by tradition... Why don't you say, 'I am going to build a life for myself, for my time, and make it a work of art'? Your life isn't a work of art ---it's a thirdhand Victorian whatnot shelf, complete with someone else's collection of seashells and hand-carved elephants."
Slaughterhouse-Five by Kurt Vonnegut
"And on and on it went--that duet between the dumb, praying lady and the big, hollow man who was so full of loving echoes."
Everything is Illuminated by Jonathan Safran Foer
"This was the world in which she grew and he aged. They made for themselves a sanctuary from Trachimbrod, a habitat completely unlike the rest of the world. No hateful words were ever spoken, and no hands raised. More than that, no angry words were ever spoken, and nothing was denied. But more than that, no unloving words were ever spoken, and everything was held up as another small piece of proof that it can be this way, it doesn't have to be that way; if there is no love in the world, we will make a new world, and we will give it heavy walls, and we will furnish it with soft red interiors, from the inside out, and give it a knocker that resonates like a diamond falling to a jeweler's felt so that we should never hear it. Love me, because love doesn't exist, and I have tried everything that does."
"I wouldn't want a boy to think I was pretty unless he was the kind of boy who thought I was pretty."
"They reciprocated the great and saving lie---that our love for things is greater than our love for our love for things---willfully playing the parts they wrote for themselves, willfully creating and believing fictions necessary for life."
Nobody Will Laugh by Milan Kundera
"We pass through the present with our eyes blindfolded. We are permitted merely to sense and guess at what we are actually experiencing. Only later when the cloth is untied can we glance at the past and find out what we have experienced and what meaning it has."
"All at once I understood that it had only been my illusion that we ourselves saddle events and control their course; the truth is that they aren't our stories at all, that they are foisted on us from somewhere outside; that in no way do they represent us; that we are not to blame for the strange paths they follow; that they are themselves directed from who knows where by who knows what strange forces."
The Unbearable Lightness of Being by Milan Kundera:
"There is no means of testing which decision is better, because there is no basis for comparison. We live everything as it comes, without warning, like an actor going on cold. And what can life be worth if the first rehearsal for life is life itself? That is why life is always like a sketch. No, "sketch" is not quite the word, because sketch means an outline of something, the groundwork for a picture, whereas the sketch that is our life is a sketch for nothing, an outline with no picture."
"For there is nothing heavier than compassion. Not even one's own pain weighs so heavy as the pain one feels with someone, for someone, a pain intensified by the imagination and prolonged by a hundred echoes."
"Anyone whose goal is "something higher" must expect some day to suffer vertigo. What is vertigo? Fear of falling? Then why do we feel it even when the observation tower comes equipped with a sturdy handrail? No, vertigo is something other than the fear of falling. It is the voice of the emptiness below us which tempts and lures us, it is the desire to fall, against which, terrified, we defend ourselves."
"Perhaps all the questions we ask of love, to measure, test, probe, and save it, have the additional effect of cutting it short. Perhaps the reason we are unable to love is that we yearn to be loved, that is, we demand something (love) from our partner instead of delivering ourselves up to him demand-free and asking for nothing but his company."
"Tomas did not realize at the time that metaphors are dangerous. Metaphors are not to be trifled with. A single metaphor can give birth to love."
"When the heart speaks, the mind finds it indecent to object."
"And what he yearned for at that moment, vaguely but with all his might, was unbounded music, absolute sound, a pleasant and happy all-encompassing, over-powering, window-rattling din to engulf, once and for all, the pain, the futility, the vanity of words."
"Sometimes even broken glass, cracked cement, sad lives; well they seem like the good dreams of bad things."
Mere Christianity by CSLewis:
"There was something we grasped at, in that first moment of longing, which just fades away in the reality."
Blue Like Jazz by Donald Miller:
"If you believe something, passionately, people will follow you. People hardly care what you believe, as long as you believe something. If you are passionate about something, people will follow you because they think you know something they don't, some clue to the meaning of the universe. Passion is tricky though, because it can point to nothing as easily as it points to something. ... What people believe is important. What people believe is more important than how they look, what their skills are, or their degree of passion. Passion about nothing is like pouring gasoline in a car without wheels. It isn't going to lead anybody anywhere."
A Long Way Down by Nick Hornby:
"Most people have a rope that ties them to someone, and that rope can be short or it can be long. (Be long. Belong. Get it?) You don't know how long, though. It's not your choice."
"You need confidence to go into small places with regular customers--small bookshops and small music shops and small restaurants and cafes. I'm happiest in the Virgin Megastore and Borders and Starbucks and PizzaExpress, where no one gives a shit, and no one knows who you are. My mum and dad are always going on about how soulless those places are, and I'm like, Der. That's the point."
"Everyone knows how to talk, and no one knows what to say."
"If you're walking somewhere, and you come up against a brick wall, then you have to retrace your steps."
"Telling yourself life is shit is like an anesthetic, and when you stop taking the Advil, then you really can tell how much it hurts, and where, and it's not like that kind of pain does anyone a whole lot of good."
"We all spend so much time not saying what we want, because we know we can't have it. And because it sounds ungracious, or ungrateful, or disloyal, or childish, or banal. Or because we're so desperate to pretend that things are OK, really, that confessing to ourselves they're not looks like a bad move. Go on, say what you want. … Whatever it is, say it to yourself. The truth will set you free. Either that or it'll get you a punch in the nose. Surviving in whatever life you're living means lying, and lying corrodes the soul, so take a break from the lies for just one minute."
Wuthering Heights by Emily Bronte
"She never had power to conceal her passion, it always set her whole complexion in a blaze."
"I've dreamt in my life dreams that have stayed with me ever after, and changed my ideas; they've gone through and through me, like wine through water, and altered the colour of my mind."
The Picture of Dorian Grey by Oscar Wilde
"Laughter is not at all a bad beginning for a friendship, and it is far the best ending to one."
"Because to influence a person is to give him one's own soul. He does not think his natural thoughts, or burn with his natural passions. His virtues are not real to him. His sins, if there are such things as sins, are borrowed. He becomes an echo of someone else's music, an actor of a part that has not been written for him."
"Words, mere words, how terrible they were, how clear, and vivid, and cruel, one could not escape from them, and yet what a subtle magic there was in them."
Thinking As A Hobby - William Golding
"I have dealt at length with my teachers because this was my introduction to the nature of what is commonly called thought. Through them I discovered that thought is often full of unconscious prejudice, ignorance and hypocrisy. It will lecture on disinterested purity while its neck is being remorselessly twisted toward a skirt. Technically, it is about as proficient as most businessmen's golf, as honest as most politicians' intentions, or--to come near my own preoccupation--as coherent as most books that get written. It is what I came to call grade-three thinking, though more properly, it is feeling, rather than thought."
"You don't have a soul. You are a Soul. You have a body."
"Life's splendor forever lies in wait about each one of us in all its fullness, but veiled from view, deep down, invisible, far off. It is there, though, not hostile, not reluctant, not deaf. If you summon it by the right word, by its right name, it will come."
T.H.White - The Once and Future King
"The best thing for being sad," replied Merlin, beginning to puff and blow, "is to learn something. That's the only thing that never fails. You may grow old and trembling in your anatomies, you may lie awake at night listening to the disorder of your veins, you may miss your only love, you may see the world about you devastated by evil lunatics, or know your honour trampled in the sewers of baser minds. There is only one thing for it then — to learn. Learn why the world wags and what wags it. That is the only thing which the mind can never exhaust, never alienate, never be tortured by, never fear or distrust, and never dream of regretting. Learning is the only thing for you. Look what a lot of things there are to learn."
Jack Kerouac - On the Road
"..besides which Lucille would never understand me because I like too many things and get all confused and hung-up running from one falling star to another till I drop. This is the night, what it does to you. I had nothing to offer anybody except my own confusion."
"I realized these were all the snapshots which our children would look at someday with wonder, thinking their parents had lived smooth, well-ordered, stabilized-within-the-photo lives and got up in the morning to walk proudly on the sidewalks of our life, never dreaming the raggedy madness and riot of our actual lives, our actual night, the hell of it, the senseless nightmare road. All of it inside endless and beginningless emptiness. Pitiful forms of ignorance."
"We had finally found the magic land at the end of the road and we never dreamed the extent of the magic."
"In my madness I was actually in love with her for the few hours it all lasted; it was the same unmistakable ache and stab across the mind, the same sighs, the same pain, and above all the same reluctance and fear to approach."
Arundhati Roy, The God of Small Things
"History's smell. Like old roses on a breeze. It would lurk forever in ordinary things. In coat hangers. Tomatoes. In the tar on roads. In certain colors. In the plates at a restaurant. In the absence of words. And the emptiness in eyes."
"Perhaps it's true that things can change in a day. That a few dozen hours can affect the outcome of whole lifetimes. An that when they do, those few dozen hours, like the salvaged remains of a burned house--the charred clock, the singed photograph, the scorched furniture-- must be resurrected from the ruins and examined. Preserved. Accounted for."
"With that cold feeling on a hot afternoon that Life had been Lived. That her cup was full of dust. That the air, the sky, the trees, the sun, the rain, the light and darkness were all slowly turning to sand. That sand would fill her nostrils, her lungs, her mouth. Would pull her down, leaving on the surface a spinning swirl like crabs leave when they burrow downwards on a beach."
Dave Eggers, A Heartbreaking Work of Staggering Genius
"You know what I think?" "Yes. No." "I think everyone should be able, just once, to make an inanimate object come to life and be his pal." I have to pause. Should he be encouraged? "Like what?" I ask, nervously. "Like an orange." He scratches his chin, something he actually does when thinking these kinds of thoughts. "Or a hammer."
"'What about dignity?' You will die, and when you die, you will know a profound lack of it. It's never dignified, always brutal. What's dignified about dying? It's never dignified. And in obscurity? Offensive. Dignity is an affectation, cute but eccentric, like learning French or collecting scarves. And it's fleeting and incredibly mercurial. And subjective. So fuck it."
"I like the dark part of the night, after midnight and before four-thirty, when it's hollow, when ceilings are harder and farther away. Then I can breathe, and can think while others are sleeping, in a way can stop time, can have it so —this has always been my dream— so that while everyone else is frozen, I can work busily about them, doing whatever it is that needs to be done, like the elves who make the shoes while the children sleep."
"I felt so detached sometimes, went for weeks at a time without really being around people my age, like living in a country where no one understands your words."
"I have no idea how people function without near-constant internal chaos. I'd lose my mind."
Edith Wharton, The House of Mirth
"It is less mortifying to believe one's self unpopular than insignificant, and vanity prefers to assume that indifference is a latent form of unfriendliness."
"It had always seemed to Seldon that experience offered a great deal besides the sentimental adventure, yet he could vividly conceive of a love which should broaden and deepen till it became the central fact of life. What he could not accept, in his own case, was the makeshift alternative of a relation that should be less than this: that should leave some portions of his nature unsatisfied, while it put an undue strain on others. He would not, in other words, yield to the growth of an affection which might appeal to pity yet leave the understanding untouched: sympathy should no more delude him than a trick of the eyes, the grace of helplessness than a curve of the cheek."
"He laid his hand for a moment on hers, and there passed between them, on the current of the rare contact, one of those exchanges of meaning which fill the hidden reservoirs of affection."
"Some women are strong enough to be good by themselves, but I needed the help of your belief in me."
"What Lily craved was the darkness made by enfolding arms, the silence which is not solitude, but compassion holding it's breath."
"She laid her other hand on his, and they looked at each other with a kind of solemnity, as though they stood in the presence of death. Something in truth lay dead between them--the love she had killed in him and could no longer call to life. But something lived between them also, and leaped up in her like an imperishable flame: it was the love his love had kindled, the passion of her soul for his."
Sylvia Plath, The Bell Jar
"If neurotic is wanting two mutually exclusive things at one and the same time, then I'm neurotic as hell. I'll be flying back and forth between one mutually exclusive thing and another for the rest of my days."
"I thought the most beautiful thing in the world must be shadow, the million moving shapes and cul-de-sacs of shadow. There was shadow in bureau drawers and closets and suitcases, and shadow under houses and trees and stones, and shadow at the back of peoples eyes and smiles, and shadow, miles and miles and miles of it, on the night side of the earth."
"The sun, emerged from its gray shrouds of clouds, shone with a summer brilliance on the untouched slopes. Pausing in my work to overlook that pristine expanse, I felt the same profound thrill it gives me to see trees and grassland waist-high under flood water--as if the usual order of the world had shifted slightly, and entered a new phase."
Haruki Murakami, The Wind-Up Bird Chronicle
"How can I put this? There's a kind of gap between what I think is real and what's really real. I get this feeling like some kind of little something-or-other is there, somewhere inside me… like a burglar is in the house, hiding in a closet… and it comes out every once in a while and messes up whatever order or logic I've established for myself. The way a magnet can make a machine go crazy."
"Here's what I think, Mr. Wind-Up Bird," said May Kasahara. "Everybody's born with some different thing at the core of their existence. And that thing, whatever it is, becomes like a heat source that runs each person from the inside. I have one too, of course. Like everybody else. But sometimes it gets out of hand. It swells or shrinks inside me, and it shakes me up. What I'd really like to do is find a way to communicate that feeling to another person. But I can't seem to do it. They just don't get it. Of course, the problem could be that I'm not explaining it very well, but I think it's because they're not listening very well. They pretend to be listening, but they're not, really."
"The point is, not to resist the flow. You go up when you're supposed to go up and down when you're supposed to go down. When you're supposed to go up, find the highest tower and climb to the top. When you're supposed to go down, find the deepest well and go down to the bottom. When there's no flow, stay still. If you resist the flow, everything dries up."