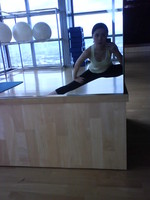 Join dance classes at the gym for my hour-long dose of cardio
Do at least one session of Body Balance for flexibility and toning purposes
Seek out sugar-free food and beverages and avoid sugar-filled counterparts
Use the stairs instead of escalators when shopping in malls
Get at least eight hours of sleep every night
Though I absolutely LOVE coke light, I have decided to avoid carbonated drinks. *tear*
Allow myself to give in to cravings from time to time. It's for my mental health!
oct 31 2007 ∞
nov 2 2007 +