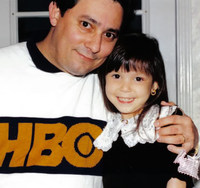 The "ping, ping, ping" Air Force Story.
His pencil story & his teacher not believing him that he was too poor to buy school supplies.
Every time we go to Nuevo Progresso, Mexico, he says "What do you want; they have it all!"
"Chiquis is Chiquis"
He always makes it a point to say which states in the U.S. were originally from a "Spanish root word".
Always starts saying phrases in French.
"Remember when we used to go to Jorge's track practice after school? Gah, it was like it was just yesterday. That's how fast life passes you by."
Takes the subway bag and blows it with air and then pops it on his head and shows my dog.
"If I 'twas the king of RRRrrroooof, of RRRRrrroooof" to my dog.
[will add more later]
apr 5 2012 ∞
oct 22 2013 +