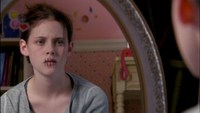 Sally in Nightmare Before Christmas - Need no explanation.
Anne Boleyn (Natalie Portman) in The Other Boleyn Girl - Damn, it's simply Anne Boleyn, my favourite historic character EVER.
Clementine (Kate Winslet) in Eternal Sunshine of the Spotless Mind - She's totally diferent from me and also an amazing character. That whould be interesting.
Claire Colburn (Kirsten Dunst) in Elizabethtown - She is so... me!
Rachel in Rachel's Holiday (Marian Keye's bestseller) - Deep character, nice story.
Hercule Poirot (Agatha Christie's detetive) - Brilliant mind, dead people and definitely the best stories.
Liesel Meminger in The Book Thief (Markus Zusak) - Words and reading sustain her when her world starts to crumble. Just like me. It's set in Nazi Germany, one of the periods that I love studying.
jul 20 2009 ∞
jan 2 2017 +