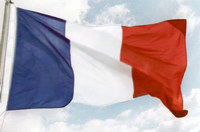 I've just started French classes this year!
It sounds harmonious! Feels like you're singing, in stead of speaking a language.
It's quite rare to find someone who speaks French, so that's make me feel kind of unique.
I just LOVE to say:

Oui!
Très jolie!
Bonjour.

French people are pretty cool.
France is definetely one of the most beautiful countries I've ever seen. I could easily live there.
may 8 2011 ∞
jun 20 2011 +