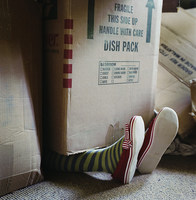 However, I'm starting to like this new place. :)
It's quite impossible to get it all done in one day.
Dealing with the moving company (honestly, it's the worst part).
Carrying the heavy stuff.
Packing EVERYTHING in boxes.

Not knowing in which box the forks or your underwears are.

Puting stuff back together again.
You realise how much useless stuff you have.

Clothes that don't fit anymore.
Papers, lots of papers.

Leaving a place you lived for the last years (to be precise, since I was born).
The new house isn't a house. It's an apartment. And you used to live in a very big house.
may 7 2011 ∞
jun 21 2011 +