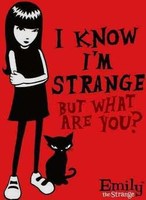 Emilia Clarke, actress who plays Daenerys Targaryen (Game of Thrones).
Emilia, character in Shakespeare play, Othello.
Emilia Uggla, pianist.
Emilia Plater, Polish patriot and revolutionary.
Emilia of Gaeta, duchess of Gaeta.
Emilia Fox, British actress.
Emilie Autumn, American singer and violinist.
Emilie da Fonseca, opera singer.
Emilie de Ravin, actress.
Emily the Strange, cartoon character.
Emily Blunt, English actress.
Emily, the title character from Corpse Bride, Tim Burton's movie.
Emily VanCamp, Canadian actress best known for Everwood.
Emily Watson, English actress.
dec 15 2009 ∞
sep 2 2012 +