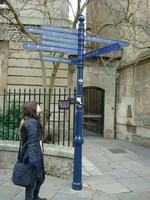 Meeting people from many different countries.
My classmates ):
Tamy's host brothers (the cutest kids EVER).
British accent.
Aero, KFC and Starbucks every single day.
Weekend trips.
Meeting bands HAHA
Nice museums.
Spending the afternoon in London.
Smiling every time I've heard someone speaking Portuguese.
My autonomy and indenpendence.
The city itself.
jul 1 2010 ∞
jun 20 2011 +