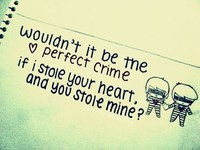 Honestly, doing everything in this list you could win any girl's heart ;)
Take care of me when I'm sick.
Tell me I look beautiful, NOT hot.
I'm insecure, so it would be nice if you showed me you love me.

Tell me you like/love me when I'm not expecting it.

Surprise me when it's possible.
NEVER lie to me.
If something is bothering you, don't hide. Talk to me and we'll try to solve it.
Listen to me when I'm not ok.
Say I look pretty even if my hair is a mess (then I could fall in love).
Sing to me one of my favourite songs.
Make me laugh.
Write me love notes.
Understand me when I freak (I promise you I'll smile when I calm down).
Make me breakfast in bed and wake me with a kiss.
oct 13 2009 ∞
jun 21 2011 +