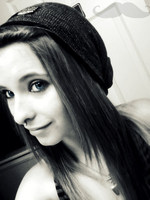 Piercings I've had/still have:

Ear. (4 in each)
Gauges. (Currently at 0g)
Septum. (Thats what the list picture is.)
Bellybutton. (Three times, took out.)
Monroe. (Parents were pissed, took out.)

Piercings I want:

Hips.
Nostril. (Two times on same side.)
Anti snake bites /or/ Spider bites on left side.
Industrial.
Rook and Inner conch.
Tragus piercing.

Future Tattoos':

Koi fish on my right foot.
My music symbol design on the nape of neck.
Ship design on my back.
Octopus on my leg.
Childrens feetprints somewhere..
Little hearts just above each butt cheek.
Stars behind my ears.
jul 22 2010 ∞
jul 25 2010 +