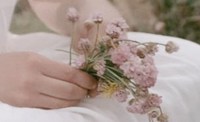 "don't die so far from the sea."
"would that i had wings."
"she felt so numb and dreamy. my skin has turned to porcelain, to ivory, to steel."
"no light, no light."
"with freedom, flowers, books, & the moon, who could not be happy?"
"i'm running because i can, because i must. because i want to see how far i can go, before i have to stop."
"winter lives in my bones."
"what we have here is a dreamer. someone completely out of touch with reality. when she jumped, she probably thought she'd fly."
"i must become a lion-hearted girl, ready for a fight."
"what do you think it would feel like to be someone else?"
"they all carried ghosts."
"everything is more beautiful because we're doomed. you will never be lovelier than you are now. we will never be here again."
"but those old girls are gone. they are dead & buried. we are new girls for a new world."
"we're all damaged somehow."
"she screams in silence."
"she wants the silence, but fears the solitude."
"they were all dreamers, these girls."
"be careful of the curse that falls on young lovers; it starts so soft and sweet and turns them to hunters."
"the women are the strong ones, truly."
"i must get back to the sea."
"but a mermaid has no tears, and therefore she suffers so much more."
"it's always darkest before the dawn."
"i am stronger within the walls of winterfell"
"daughter of the rain & snow."
"that's what the water gave her."
"my arms around his neck, my fingers laced to crown."
"a dreamer, that's what she was."
"no more dreaming like a girl so in love with the wrong world."
"all that we see or seem, is but a dream within a dream."
"in each of us lie good and bad, light and dark, art and pain, choice and regret, cruelty and sacrifice. we're each of us our own chiaroscuro, our own bit of illusion fighting to emerge into something solid, something real. we've got to forgive ourselves that. i must remember to forgive myself. because there is a lot of grey to work with. no one can live in the light all the time."
"you can't choose what stays and what fades away."
"a certain darkness is needed to see the stars."
"when i dream, i dream of him."
"the stars, the moon, they have all been blown out."
"like petals we must eventually fall."
"all she wanted was for things to be nice and pretty, the way they were in the songs."
"what if i choose the dream instead?"
"sansa stark is my last chance for honor."
"and you come out with your long auburn hair, clad in a maiden's cloak of white & grey, with a direwolf emblazoned on the back."
feb 2 2012 ∞
sep 3 2012 +