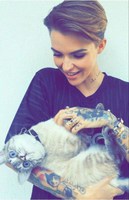 Health: No dancing this year. It's not going to happen. But I'm determined to move every day. Even if it's just a tiny little bit. And look into Slow Carb / High Carb Vegan options for my diet. I'm not sure which one is the way to go for me.
Beauty: Improve my health to get healthier hair. Get a haircut, consult a pro.
Friendship: I'm scared of making this my goal again this year as it hardly ever works out but I want to spend more time with Frank again to get to know each other better. To be less awkward around each other. I want to figure out a way to stay friends with Hannes.
Love: The last few months showed me that yes, the wild months are over. I think the key is to be more open about my needs. Be careful what to wish for, eh?
Culture: Learn Spanish, find a way for me to keep learning (university, classes, workshops), keep reading (52/52 is actually quite managable), keep going to concerts, the theatre, exhibitions, other interesting cultural events.
Travel: I'm aiming for one trip overseas. The rest is nice to have. So far my plans are to visit Tobi in Zurich, to go to Barcelona with Nicole and our students, to attend Elsa's wedding in Northern Germany. I might go to London with Annika and the family (Lena, Lexi, Obi, Yanic) is planning a trip as well but we don't know where to go yet. Or when for that matter. And I'd really love to go to Mexico, either alone or with Lexi.
Living situation: Find an apartment closer to my job. Yes, still. And spend more time with pets. Other people's pets.
Creativity: I'll keep last year's goals in this section: Draw more. Create a website. Do little art projects, knit, glue, cut, whatsoever. And take classes. Goldsmithing, art history, Asian cooking, massage techniques, screen printing...
Fun: Learn one weird skill every month. So far I'd like to learn whistling with my fingers, juggling and making stones jump over the water.
jan 2 2018 ∞
jan 13 2019 +