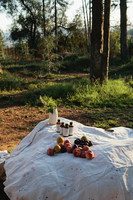 Drink at least 3l of uncarbonated water every day - these bottles are a great idea. Have some tea as well!
Consider a personal version of the 5:2 fast.
Take magnesium, biotin, psyllium husks.
Go for a walk. Every day. Even if it's just 5 minutes. Preferably in the woods.
Ride your bike to work/the city whenever possible.
Consider a very alkaline, plant-based diet, eat a lot of fresh fruits and veggies. Go slow on carbs and dairy. Consider eating fish.
Track your food and exercise.
Try to go to bed before 1am.
Don't eat after 8pm.
Eat your feel-good breakfast every morning: plain yoghurt, nuts, some muesli and fresh fruit.
Think about life goals and a good daily routine.
Quit sugar and refined carbs as far as possible.
Read before going to bed every night. At least 10 pages. Finish one book every week.
Wash your dishes immediately after using them.
Moisturise religiously. Use body lotions and oils, massage. Floss.
Do some stretching / yoga every day. Do a bit of weightlifting.
Limit screen time to a reasonable amount (tv shows, internet).
Try to put away 50€ each month (travel fund).
Play badminton, go swimming once a week.
Breathe deeply and consciously.
Practise mindfulness.
sep 4 2013 ∞
jan 2 2014 +