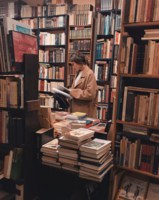 Iglo Veggie love with broccoli, buckwheat and black beans. Quick and easy.
The TEDxTUM event was pretty inspiring. I loved how they organised it and some of the speakers were amazing. Seeing all the cool stuff other people are working on actually motivated me to try and achieve great things myself. I'd like to learn about something new, start a project or volunteer.
Pick Up Limes videos.
The way Cher sings the word Memphis in her cover song.
Seeing Frank for the first time in four months. Having a good time at the Uncle Acid concert, getting a beer at Flex. Even though meeting him always causes some kind of emotional turmoil it might actually help to solve a few things I've been stressing over this time, for example that whole deal with Claudia.
Spending two hours in the kitchen on a Sunday morning. Preparing a summer and a winter curry. Pre-cutting salad. Listening to Tai Chi music. Baking these divine buckwheat chocolate cookies - absolutely delicious even though I forgot to add salt. Kinda healthy, too! It's grain-free (I even used groats) and I substituted part of the sugar with honey.
Gift ideas for rock collectors and mycophiles.
A spotted woodpecker in our backyard.
Dalmatian Jasper. Such a pretty stone.
Blinded by the Light. And a trip down musical memory lane. Making a nostalgia mixtape. Singing, enjoying the sound of my voice (as long as I hit the right vocal range).
Drawing owls. For hours. Using my Polychromos coloured pencils. I'm currerntly working on two owl-related projects, designing a logo for coffee roasters and making my friends' wedding invitation. Drawing owls like lovebirds is such a satisfying thing to do. Also: making my students come up with new ideas! Some actually drew some owl logos, too!
Tetris.
Reading books I don't understand. By people who are smarter than me. A very humbling experience. There is so much more to learn, experience and achieve.
Franzi's elegant coat and her ice crystal earrings. She's pregnant but she is skinnier than before and looks great. We cuddled up on a rooftop and had Kinderpunsch.
Practising The Pogues' Fairytale of New York for for karaoke night. I never hit the NYPD choir note quite right. My neighbours must hate me.
Taking a mental health day. Starting the day with baking cookies, making vegan sushi rolls. Reading, taking a nap. Yoga in the evening. Feeling really happy and relaxed. One of those rare inspired days when everything just falls into place. I kept revisiting beautiful places and memories during Shavasana. And I LOVE my yoga teacher more and more each week. So sad she is leaving the studio.
Taming your temper - tips for anger management.
Another coincidence. I wondered when the next Bilderbuch record will be released when I was looking at Mavi Phoenix at her concert - that girl is the female version of Maurice Ernst. A few hours later I found out that Bilderbuch actually had released a new album one day ago. WHAT.
Mirror tape.
Being a fluffy little red cat's human of choice. We sat in a cat café, no animals in sight. After a while a cat walked up straight towards me, sat down on my yellow scarf and kneaded it. Later she demanded attention and purred while I scratched her jaw. Apparently this was quite a rare occurence because she is said to be really shy and hard to handle. Weirdos unite!
Making Bhindi Masala, a vegan okra curry. Spicy and intense - delicious! Oh, and sushi rolls filled with avocado, veggies and fancy tofu/tempeh. Now I have a whole container waiting for me in the fridge.
Practising yoga for 20min on a gloomy Monday morning. Lighting a candle, drinking a cup of Ayurvedic Kapha tea with honey and lemon.
Tom, who inspired me to learn more about Ayurveda. And to rewatch The Darjeeling Limited because let's face it - Wes Anderson really knows how to make one of the poorest countries in the world look gorgeous.
We become what we think about. It's impossible to be successful without having a destination.
"Smelling you almost makes me cum."
Running around with a fake septum piercing. I kinda like the look. I'm actually considering getting a real one but so far I'm fine with the clip-ons. The good thing is that you can't see the ring's ends anyway in that kind of piercing.
Spending time with the old friends. The best ones. The ones you don't have to speak to and it's still not uncomfortable. The ones you can be super weird around and they embrace it. The ones you can tell your strangest ideas and stories.
There is a new Turkish supermarket right around the corner! Fresh cilantro whenever I want! YES!!!
Heavy snowfall. It does look kinda pretty, I admit.
Many questions, not enough answers at the ESO Supernova exhibition/planetarium. / Making another cat friend over breakfast. / Seeing my foxy ginger lady Anika again after such a long time! / Orange marzipan lebkuchen and roasted coconut almonds (they taste like Raffaello). / Finding the perfect earrings and a beautiful head band at EDITED - The Label. / Performing Fairytale of New York live on stage with Manu. Being able to curse at somebody through song is perfect, I had a lot of fun. Also, he promised me his art teacher sweater as a Christmas present.
A knitting project with rainbow wool.
Making a clay sculpture for my mum. Taking it out of the oven at 80 degrees, wrapped in a dish towel like a baby.
The honey marzipan nougat bar from dm bio.
Meeting Manu at his office. Receiving the most awesome paint palette sweater as a Christmas present! And he let me spend a full hour in virtual reality! He has such an amazing programme which lets you draw in 3D and float around in space (with VR goggles). I'm absolutely fascinated and intrigued. Gotta visit him more often.
Meeting Tobi, Maike, Lena and Christian at Märchenbasar. Being drunk after some Feuerzangenbowle with rum (Pfeffi in Manu's case) and white mulled wine. Taking the long way home.
Buying Paulaner Spezi for my class. Supermarket trips with the kids before 8am. Schrottwichteln. Watching random goat videos and intros to children's series.
Having a drink at Goldene Bar in Haus der Kunst. Such a gorgeous place. I'm trying to get into a workshop on the museum's architecture at the end of January.
Making random people want to kiss me. Having no desire whatsoever to actually kiss them.
The Harry Potter round (on special request) at the pub quiz.
Reading Stephen Hawking's short answers to some of the big questions. I have to admit, I know nothing about physics or cosmology and at times his explanations were super hard to understand (fine, I probably didn't understand most of it) but I love creating a need to use my brain in uncommon ways.
Vivid dreams. About dangerous skyscrapers (just different floors stacked loosely on top of each other), a kidnapping in a futuristic car by very glamorous gangsters, lesbians on a scooter trying to save me, travelling through Asia and the US with Sash, a sinking ship (but all the passengers swam back to the surface after a short period of unconsciousness), ATMs, fancy drinks, meeting strangers with beautiful eyelashes at a restaurant.
Discovering the Trouvelot astronomical drawings (1882) on the darkest day of the year, winter solstice. Watching the night fade away ever so slowly in the morning from the kitchen window, squeezing fresh oranges to make juice for breakfast. Bright orange and midnight blue is a great colour combination.
An article about a dear friend of mine appeared in Süddeutsche Zeitung! So happy for him.
Spending time with very old friends right before Christmas. Tobi, Sash, Michi, Yanic, Fischi and his wife... Playing MarioKart on SNES with Peter and taking weird selfies together. I had a very nice evening.
Managing to get a look at downtown Chicago during my layover. I uber-ed into the city centre (watching the skyscrapers getting larger and larger), walked around Millenium Park and along Lake Michigan. I spent quite a bit of time at Blick, an amazing art store, before I took the train back to the airport.
Arriving in Mexico in the middle of the night on Christmas Eve. Seeing the city sparkling from above. Watching a bunch of kids beating a pinata well after midnight. Arriving in a beautiful artist's apartment in Condesa.
The Anthropology Museum in CDMX made it on the list of my favourite museums ever. I could have spent days there. I kept sketching some of the funny masks and Maya figurines. There were plenty of creepy tombs and skeletons, depictions of weird Gods, handicrafts and woodcarvings. It was just so interesting, probably because I had never seen a lot of South American / Aztec culture before and I love learning and exploring new things.
Christmas day in CDMX: sunshine, tacky glitter decorations, pointy balloons and spiky pinatas. Dancing, ancient smoke rituals performed by a Mayan community.
Mexican street food, especially the vegetarian street food tour with David. Meeting the Blue Corn Lady (her quesadillas are with cactus and beans and they're incredibly delicious). Flatbread, corn, fruit with chili and lime. Pulque and Mezcal. Finding out that the green salsa is actually worse than the red one. Tacos, Enchiladas, Tamales. If you go to Mexico just for the food you'll still have plenty to explore.
That evening with the pink sunset. Walking through the old used book store in Roma. Reading an interesting take on Lars von Trier's Melancholia. Meeting the resident cat.
Lucha Libre! Watching the luchadores, especially the small people in the second round. Laughing about the Mexican boy next to me swearing at the top of his lungs. Getting a mask as a souvenir.
Climbing the sun and moon pyramid at Teotihuacán. Getting a sunburn. Enjoying the atmosphere. It's a very impressive site.
Diving in Cozumel with Brooke-Anne (a librarian from Las Vegas who was raised by Mormons), Cynthia from Quebec and Lucie from Toulouse. Entering some coral formations underwater. Eating cantaloupe melon and chocolate cookies after the dive. Spending the evening with another Canadian, Jussi from Finland and that other dude from Puerto Rico. And some Indio beers.
What I loved most about Tulum were the ruins (right next to a gorgeous beach) and the health food restaurants (La Hoja Verde and Co.Conamor).
And this year I don't really have a good New Year's Eve story because I fell asleep at quarter past eleven in a little village west of Tulum. All alone. Could be worse though, I had an amazing year.
dec 1 2018 ∞
jan 13 2019 +