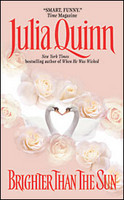 The ones with men and women in compromising positions on the covers (or the spine). With cheesy fonts, and cheesy titles. Because sometimes, there is nothing more entertaining and cathartic than romantic drivel (and I say this with all affection) coming from devastatingly attractive men of your imagination. Oh yeh. Even the bad ones have that so-bad-it's-good quality. Which is part of the charm in skank. In no particular order...
Velvet Song by Jude Deveraux
Almost Heaven by Judith McNaught
Remember When by Judith McNaught
The Gift by Julie Garwood
Gentle Warrior by Julie Garwood
Brighter than the Sun by Julia Quinn
Romancing Mr. Bridgerton by Julia Quinn
It's In His Kiss by Julia Quinn
Devil in Winter by Lisa Kleypas
Dreaming of You by Lisa Kleypas
Tears of the Moon by Nora Roberts
One Kiss From You by Christina Dodd
A Rake's Guide to Seduction by Caroline Linden
I would put in the awesomely cheesy and delightfully entertaining anthology type romance novels but I can't seem to recall their names at the moment...