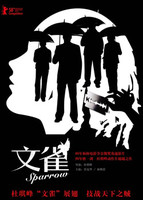 SPOILER warning.
Empire Records

The staff opens up shop, doing various miscellaneous activities like straightening out magazines, records and making coffee in preparation for 'Rex Manning Day' while jamming out to Queen Sarah Saturday's "Seems."
Joe bangs on his drums to relieve his frustration while everyone else rocks out, all courtesy of AC/DC's "If You Want Blood, You Got It."

Man Jeuk/Sparrow

The pickpocketing sequence under umbrellas is made so suave and creates such an impact with Fred Avril and Xavier Jamaux' "Ballet of the Umbrellas" scoring.
The breezy, nonchalant bike ride Kei takes through the waking Hong Kong streets is accented by Fred Avril and Xavier Jamaux' "Simon's Ride."

Duo luo tian shi/Fallen Angels

Leon Lai navigates through the tiny corridor into the back room of an HK restaurant preparing to make a hit wearing sunglasses at night to the background music of a remix including Massive Attack's "#2 Karma Coma"

Secretary (US 2002)

Lee Holloway begins to enjoy being Mr. Grey's submissive, as revealed by the montage of her many activities to please him accompanied by the sexy, smoky and deliberate singing of Leonard Cohen to "I'm Your Man."

The Royal Tenenbaums
I love Wes Anderson so much for being a filmmaker and creating this film and several others just as beautiful, with music that is often so perfect that I don't know what to do with myself. However, some scenes stick to me more than others.
Margot gets off the green line bus to meet Richie, and we see the world through his eyes: reduced only to the existence of the green line bus and Margot approaching him accompanied by Nico's "These Days."
Richie shows Margot his scars, both literally and figuratively in his old tent and exchange confessions of a desperate but altogether too complicated love as well as the realization that it simply cannot happen. Upon kissing his hand, Margot gets up to leave as the Rolling Stones sing "Ruby Tuesday."

Boys on the Side

At Holly's welcome home party in the house in Tucson, Jane introduces Robin, who is looking much worse due to HIV and sitting in her wheelchair beside the piano, as a Star Search runner up to prompt her to sing, and she starts, but falters and begins to get choked up, leaving Jane to continue the rest of the song, Roy Orbison's "You Got It," for her. As the camera pans around the room to look at all the close friends and dear people, it eventually fades out into the emptied room and Robin's empty wheelchair.

Wayne's World

Garth fantasizes about catching the attention of the hot blonde waitress and imagines himself selecting "Foxy Lady" by Jimi Hendrix and starts bobbing up and down in a uniquely Garth "come hither" dance. Awesome.

Yau doh lung fu bong/Throwdown

Another one of those great moments in a Johnnie To film. I don't know what the title of the score is, because unfortunately, the soundtrack to this film was never made :( But I love the melding of the music with the scene where Tony, Szeto and Mona create a human ladder to reach the floating balloon.

Meet Me in St. Louis