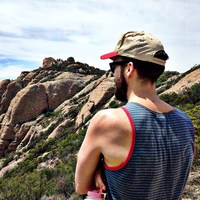 Writing + producing Rogue Wave audio story; Nov. 2017
Official Wedding ceremony on Oregon Coast; June 2017
Reporting for BBC (Dawson City); May 2017
Reporting + Writing for BBC (Forget); Feb. 2017
Leaving Los Angeles; Dec. 2016
Getting married to Richard; Nov. 2016
Reporting + Writing for BBC (Channel Islands); Apr. 2016
Producing "Chelsea Does"; 2015
Hiking Mt. Whitney; June 2014.
Creating, Launching, Maintaining: ReCirculation Desk; May 2013.
Planning, coordinating, executing Mom's 60th surprise birthday party; July 2012.
Beginning and continuing Book Club; Oct. 2011 - present.
Being published (again) at Adovcate.com; July 2011
Finding my "first" apartment/house (Maltman); May 2011.
Traveling by myself to Paris and Barcelona; April 2011.
Buying my first car (Toyota Prius); January 2011.
Beginning and continuing my morning pages; February 2010 - present.
Sobriety; January 2008 - present.
Published in Out; July 2004.
Published in Advocate; March - September 2004.
Being awarded SCIAC Student/Athlete; May 2002.
Being named/Serving as Editor in Chief to Campus Times; February 2002.
Studying abroad in Athens, Greece; March - June 2001.
Qualifying for Division III National Championships in 100-yard breastroke; February 2001.
Winning the 100-yard breastroke SCIAC title three years in a row; '99-2001.
Traveling to Mexico with Religious Studies group over Spring Break; March-April 2000.
Winning a 200-yard breastroke dual meet race (with cast on); January 2000.
Qualifying for and competing at CIF in 100-yard breastroke, 400-yard freestyle relay; 12th Grade, 1998.
Passing the AP History test; 11th Grade, 1997.
Becoming assistant drum major to the MHS Marching Band; 10th Grade, 1997.
Performing the Star Wars score during the annual recital with the Pasadena Boys and Girls Club band; 10th Grade.
Being awarded first chair clarinet in the Pasadena Boys and Girls Club band; 10th Grade.
Qualifying for Junior Olympic Swim Meet in 100-yard breastroke; 9th Grade.
Winning the paddle board relay for the Sante Fe Dam Junior Life Guard team; 7th Grade.
Winning a creative writing award for my story about a white water rafting accident; 7th Grade.
Memorizing and reciting "Sarah Cynthia Syliva Stout" to Miss Yoffee's Language Arts class; 6th Grade.
Sewing a vest and mock turtleneck to wear at my grandparent's 50th wedding anniversary; 5th Grade.
Making the 30 second club in band class; 5th Grade.
dec 3 2012 ∞
apr 2 2019 +