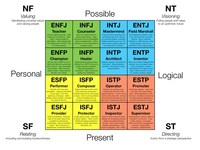 Taken from mypersonality.info
INTP - The Architect/Engineer
INTPs are logical, individualistic, reserved, and very curious individuals. They focus on ideas, theories and the explanation of how things work. They are especially adept at discussions and debate. They have the ability to focus intently on a subject. They appreciate and respect intelligence in others.
According to (www.keirsey.com): [http://www.keirsey.com]
Architects are rare - maybe one percent of the population - and show the greatest precision in thought and speech of all the types. They tend to see distinctions and inconsistencies instantaneously, and can detect contradictions no matter when or where they were made. It is difficult for an Architect to listen to nonsense, even in a casual conversation, without pointing out the speaker's error. And in any serious discussion or debate Architects are devastating, their skill in framing arguments giving them an enormous advantage. Architects regard all discussions as a search for understanding, and believe their function is to eliminate inconsistencies, which can make communication with them an uncomfortable experience for many.
Ruthless pragmatists about ideas, and insatiably curious, Architects are driven to find the most efficient means to their ends, and they will learn in any manner and degree they can. They will listen to amateurs if their ideas are useful, and will ignore the experts if theirs are not. Authority derived from office, credential, or celebrity does not impress them. Architects are interested only in what make sense, and thus only statements that are consistent and coherent carry any weight with them.
Architects often seem difficult to know. They are inclined to be shy except with close friends, and their reserve is difficult to penetrate. Able to concentrate better than any other type, they prefer to work quietly at their computers or drafting tables, and often alone. Architects also become obsessed with analysis, and this can seem to shut others out. Once caught up in a thought process, Architects close off and persevere until they comprehend the issue in all its complexity. Architects prize intelligence, and with their grand desire to grasp the structure of the universe, they can seem arrogant and may show impatience with others who have less ability, or who are less driven.
According to (similarminds.com): [http://similarminds.com/jung/intp.html]
loner, more interested in intellectual pursuits than relationships or family, wrestles with the meaninglessness of existence, likes esoteric things, disorganized, messy, likes science fiction, can be lonely, observer, private, can't describe feelings easily, detached, likes solitude, not revealing, unemotional, rule breaker, avoidant, familiar with the darkside, skeptical, acts without consulting others, does not think they are weird but others do, socially uncomfortable, abrupt, fantasy prone, does not like happy people, appreciates strangeness, frequently loses things, acts without planning, guarded, not punctual, more likely to support marijuana legalization, not prone to compromise, hard to persuade, relies on mind more than on others, calm
According to (www.typelogic.com): [http://www.typelogic.com/intp.html]
INTPs are pensive, analytical folks. They may venture so deeply into thought as to seem detached, and often actually are oblivious to the world around them.
Precise about their descriptions, INTPs will often correct others (or be sorely tempted to) if the shade of meaning is a bit off. While annoying to the less concise, this fine discrimination ability gives INTPs so inclined a natural advantage as, for example, grammarians and linguists.
INTPs are relatively easy-going and amenable to almost anything until their principles are violated, about which they may become outspoken and inflexible. They prefer to return, however, to a reserved albeit benign ambiance, not wishing to make spectacles of themselves.
A major concern for INTPs is the haunting sense of impending failure. They spend considerable time second-guessing themselves. The open-endedness (from Perceiving) conjoined with the need for competence (NT) is expressed in a sense that one's conclusion may well be met by an equally plausible alternative solution, and that, after all, one may very well have overlooked some critical bit of data. An INTP arguing a point may very well be trying to convince himself as much as his opposition. In this way INTPs are markedly different from INTJs, who are much more confident in their competence and willing to act on their convictions.