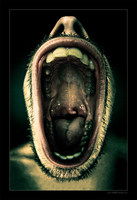 "I should have beaten you as a child." (jokingly)
"This song reminds me of you." (It was Queen's 'Fat Bottomed Girls', and to this day I'm still not sure if I should take it as a compliment or insult.)
"You have gorgeous eyes."
"I fucking hate you." (Usually not seriously. Usually.)
"And you, you're just completely detached from reality."
"People always think I'm the evil one, but really it's you."
"You're like the beta version. No one has tested you yet."
"You're like a swiss army knife of goodness."
"Do you ever stop and think about what you've just said, and then asked yourself 'what the fuck is wrong with me?'"
"I have no idea what you're talking about."
"...You're sick."
"Ask him how big his penis is."
"I'd make out with you if I was drunk."
"You're drawn to me as a lobster is drawn to butter!"
aug 2 2010 ∞
jan 20 2017 +