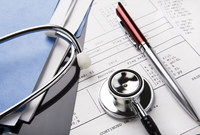 by Faith T. Fitzgerald, MD
Altruistic, compassionate, courageous, intellectually curious, frugal scholar, gifted in history, philosophy, politics, economics, sociology, and psychology. Must have working knowledge of biology, chemistry, physics, and medicine. Physical endurance, emotional maturity, and technical-manual skills sufficient to take apart and reassemble the human body and mind at levels ranging from the micromolecular to the gross are required; must have flexibility to master all knowledge, __sift and discard++ that no longer applicable, while discovering new data at the bench, in clinical practice, in both general and subspecialty medicine. Teaching, counseling, administrative, computer, and budgetary expertise is essential, as is commitment to the disenfranchised. A working knowledge of the law; literary, artistic, and musical talent; and multilingualism is highly desirable. Should be able to prevent and cure disease, including the depredations of advancing age; physical disarray; and spiritual, mental, emotional, and economic illnesses. Will need to function effectively and efficiently in both intensive care units and urban slums.
Salary ideally should be no issue, though heavy initial investment by the candidate is required. Benefits variable, depending on the individual's principal source of gratification. This is a 24 hour per day commitment.
Should make house calls.