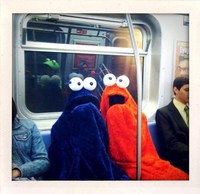 "Don't worry about a thang. Because every little thing is gonna be alright!" Bob Marley, Three Little Birds
They've probably forgotten. People are busy people and are too concerned about their daily lives to remember that awkward thing you did!
It gives you thick skin!
This is water. (http://web.archive.org/web/20080213082423/http://www.marginalia.org/dfw_kenyon_commencement.html) (Sorry I keep beating you all over the head with this speech...)
Life is beautiful. There are so many little, wonderful and terrible yet always beautiful things to live for. Whether I believe in it or not, there is goodness. There is hope. There is love.
People I care deeply, deeply about (*cough cough* including the people on this listography page *cough cough*) love me and think I am good person. I should do the same.
"Move on!" -Stephen Sondheim, via my mother
"Of course it's hard. It's supposed to be hard. If it were easy, everybody would do it. Hard is what makes it great." -A League of Their Own, again via my mother
"Keep your heart high, and don't be so fearful!" -Porfiry, Crime and Punishment
Plus many more. I need so many coping strategies, it's crazy...
apr 24 2011 ∞
apr 24 2011 +