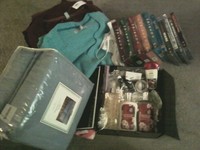 The past two years has been super hard on me physically, and financially, so I don't really buy any "fun" stuff or pamper myself. But my family and lovely boyfriend decided to rectify that!
From parents:

They drove over an hour after work with my doggies (total surprise) so I could see them! I had been feeling very blue about not seeing them during the holidays. This would have been a good enough present.
2 v-neck sweaters from Old Navy.
PJ set (Since my mom used to always get us new pj's for Christmas Eve)
Flannel sheets
Dark dark green and black nail polish
Urban Decay eyeliner, purple.
Heated eye-lash curler.
Bath & Body Works lotion, shower gel, and body spray in Japanese Cherry Blossom.
Combo silver/black eye shadow.
And from George:
Seasons 6-10 of "Friends".
Seasons 7 & 8 of "Scrubs".
Season 1 of Veronica Mars.
"Role Models", unrated version
"Dr. Horrible's Sing-Along Blog"
A Guide to Quality Taste & Style, Tim Gunn(I looooove me some Tim Gunn!)
Nana:
$$, some of which will be responsibly put towards bills and groceries. The other will not so responsibly go towards buying as many of "Friends" seasons 1-5 as possible!
George's Family:
Giftcards for Best Buy and Old Navy.
Official Book Club Selection: A Memoir According to Kathy Griffin, Kathy Griffin.
Pajama set
Cat Calendar
Small set of book shelves
Sweater jacket from Old Navy (picked out by his dad, which is even more awesome!)
Lots of cookware, kitchen supplies, etc.
Girly bath goodies.
Small rectangular basket for the bathroom.
I was truly a lucky girl this year!